Mar 17, 2023
Earl DeMatas
0
Karen Bannister, CM, Vice President of Marketing at Centurion Asset Management Inc., discusses where she's invested her time, what attracted her to the profession, and something vital every marketer should know.
Since 2001
My journey began in 2001 when I received a Diploma in Website Design and eCommerce and obtained my first marketing role. Since then, I've continued investing in my education and professional development. In 2024, I look forward to completing my Executive MBA from the Ivey Business School at Western University. The freedom to apply in-class time towards my required CM development hours has made maintaining the designation convenient and growing my skills possible. With all the time I've invested in enhancing my knowledge and skill set, it was only natural that my journey would incorporate learning with the CMA. I earned a certificate in Integrated Brand Management in 2007, a certificate in eMarketing in 2008, and a Chartered Marketer designation in 2018.
Opportunities
I pursued a career in marketing to be creative while being challenged. I love that there are countless opportunities for growth, innovation, and, most importantly, relationship building. It's fascinating because marketing is so dynamic that you can interact, specialize or work in various functions while influencing, tracking, and measuring success. Your role could overlap in brand and content, however, to be successful, you must continue learning and growing because marketing is constantly evolving.

High Standards
The CMA courses are an outstanding example of what lifelong learning means. I earned the CM designation to excel in my career and be a role model to my children. They needed to know they could achieve anything they put their minds to. You can't just complete it and move on. To maintain good standing, you must continue to learn. Earning the designation speaks to the holder's commitment and dedication to delivering excellence and quality in marketing.
Effort and Dedication
The CM designation demonstrates an ongoing commitment to professional development and becoming well-rounded marketers. To display this commitment, I leverage it on my email signature and LinkedIn profile. My colleagues have responded positively to my achievement, recognizing the effort and dedication it took to earn and maintain it. I enjoy engaging colleagues in fascinating conversations about the marketing profession and where it's headed.

A Solid Foundation
The CM designation shapes future marketing leaders by providing a solid foundation and key areas of knowledge within the profession. I've also had numerous opportunities to share my career growth and journey and have some interesting conversations. I'm always willing to discuss how to obtain and maintain the designation, because continuing professional development is vital in marketing.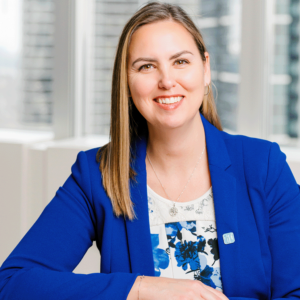 The Chartered Marketer experience is about more than simply obtaining the CM designation. It's about joining a community of experts, staying current with trends, continuing professional development, and committing to the marketing profession. I highly recommend CMA courses to friends and colleagues for the structure of learning, connections made, and commitment to marketing excellence. I am proud to be a Chartered Marketer.
Karen Bannister, CM
Vice President of Marketing
Centurion Asset Management Inc.

Tags:
Blog
,
CM Graduates
,
Executive Pathway