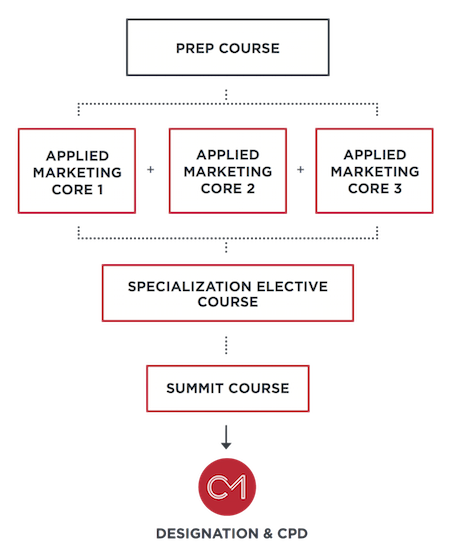 Prep Course & Entrance Exam
The Chartered Marketer Prep course is the mandatory first step to participation in CMA's two-year Chartered Marketer program. The Prep course is a self-directed, move-at-your-own-pace course adapted from McGraw-Hill's 2018, "Marketing" textbook. 

The course uses an electronic version of the textbook, with videos, interactive exercises, current case studies and examples to give learners a comprehensive overview of marketing today. This will place learners on equal footing as they move into the interactive, collaborative CM program. 
Applied Marketing Core 1



• Understanding the Customer (Insights, Data Science, Research)
• Strategic Thinking for Marketers (Opportunity Sizing, Value Proposition Development, Market Planning)
• Brand Strategy (Perception, Values, Voice & Positioning)
Applied Marketing Core 2
• Financial Management for Marketers (P&L, Margin Management, Pricing)
• Measurement & Analytics (KPIs, Metrics in Digital & Traditional)
• Effective Campaign Development
Applied Marketing Core 3
• Communications Planning (Messaging Hierarchies, User Experience, Formats)
• Building Integrated Campaigns (Media & Content, Channel Selection, Optimization, Automation)
• Marketing Technologies & Emerging Trends
Specialization Elective
Specialization Electives courses will be comprehensive, deep-dive into a specific topic. The content of these courses will be informed by a team of experienced, practicing marketers. 
Please note: not all elective courses will be available each semester. Please check the Program Dates tab for availability
Initial Electives will align with all CMA Councils:
• Martech
• B2B
• Customer Experience
• Not for Profit
• Media – launching April 2020 – understand the role of paid media within marketing to become a more well-rounded marketer
• Insights
• Brand – launched – take a deep dive into the balance of theory and real-life applications involved in developing and evolving a brand
Summit Course
The Summit Course is in the build-phase. More information will be updated on the website as it becomes available.
• This course will bring together the learning from throughout the program
PREP COURSE FAQ
You would need a minimum of 50 % on the final exam, and an overall grade of 60% to pass the course.
The modules do not have to be done in any specific order. We do recommend that you complete the modules sequentially, for best result. However, you MUST complete all module quizzes and the final exam.
The prep course will be offered approximated three times a year.
For additional program information and any questions please contact us