Jan 20, 2023
Earl DeMatas
0
Liz Oke, CM, Lead Course Developer and Instructor at the CMA, discusses growing up with marketing in her DNA, developing the CM curriculum, and excellence in marketing. 
All My Life
Growing up, my friends and I made up games that, for some reason, revolved around the discipline of marketing. We would invent products we wanted or set up and sell lemonade and wildflowers on the front lawn. So, although my career didn't formally begin until 2005, I guess you could say I've been a marketer all my life. I've shared my knowledge by teaching digital marketing strategy, SEO and social media for eight years. In 2009, I started my consultancy to help organizations, from start-ups to enterprises, reach their customers effectively.
Original Instructor
I was one of the original instructors of the Chartered Marketer program, and I helped develop module 3, which dives into marketing campaign creation and management. It was vital to me and the rest of the team to build the designation's curriculum and help recognize what excellence in Canada is for our profession.
Insights and Perspectives
One aspect that makes the CM program unique is that it provides a 360 view of marketing, with insights from both the agency and in-house perspectives. In Core 3, the marketer must wear both hats by developing a creative brief and concepts on the agency side while delivering effective feedback as an in-house marketer. Understanding the process from both sides allows marketers to produce the best work and results possible.
Excellence in Marketing
I use the CM designation on my LinkedIn profile and highlight it in my professional biography. I think it's important to show everyone I work with, from colleagues to potential and current clients, that I am committed to excellence in marketing.
Filling in the Gaps
The CM program provides real-world scenarios and offers a 360 view of the marketing discipline in Canada. There comes a time when a marketer wants to expand their knowledge by exploring different disciplines, industries, or job functions. The CM program provides them with a well-rounded view of their options and fills in the knowledge gaps. Earning the CM designation proves you have the knowledge, skill set, and dedication to succeed in marketing. CM holders demonstrate their commitment to marketing excellence in Canada by upgrading their knowledge and skills and enhancing their professional development.
Developing the Curriculum
Networking with marketing professionals through the CMA has led me to some beautiful connections. The CMA is a valuable and integral part of marketing in Canada because it unites marketing professionals and provides us with a platform to share ideas and continue to grow.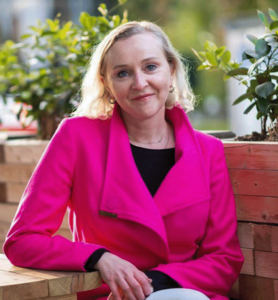 Developing the program's curriculum and bringing it to life alongside a team of experienced and talented marketers was a great accomplishment in my career. I am proud to have helped lay the groundwork for the Chartered Marketer Designation and to help further excellence in our profession.
Liz Oke, CM
Principal at LizOke Inc.
Lead Course Developer and Instructor at the CMA

Tags:
CM Graduates
,
CM INSTRUCTOR
,
Executive Pathway