Apr 15, 2022
Earl DeMatas
0
A Marketing Coordinator at Winter Instruments, Shady Selim discusses career advancement, learning from peers and the knowledge that awaits you in the CM program. 
Making the Switch
Before joining the Chartered Marketer program, I was working at Staples in a hybrid role that combined marketing and human resources. Working in an HR role for two years exposed me to recruiting and training new hires.  Although I was involved in both human resources and marketing, something was missing. I didn't feel fulfilled with my position. Since I already had an HR background, I was looking for something like the HRPA when I found the Canadian Marketing Association. In the beginning, I didn't know where to look for information on the CM program back in 2018. In November of 2021, I decided to try again and thanks to the CMA's effective SEO, I found the information I needed on the CM program and decided to switch from HR to marketing.
I Love It
When I saw the cost of the first payment, I approached my boss for funding to reduce the cost of the CM program and the rest as they say was history. Currently, I am in Marketing Core 1 and so far, I love it! I enjoy learning from peers which stimulates new ideas when I work. The weekly assignments give me the opportunity to practice my writing which I haven't had a chance to do in years. What excites me most about the CM program is the mixture of online and in-class learning with Engage Live. Online learning gives you the flexibility to complete assignments when it is the most convenient for your schedule. Engage Live reminds you that you will never be alone on your CM journey. Help is always just a click away and the CM staff are always willing to help.
Gain Some Experience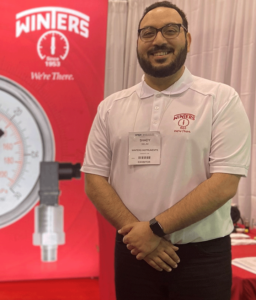 If you are considering joining the CM program, the first thing you should do is gain some experience in marketing in the industry of your choice. Having this foundation to draw from will be extremely beneficial because your knowledge and previous experience will enrich your learning. What I think is unique to the CM program is that it really is intensive, all-encompassing, and profound. I am learning more in this program than I learned in the one-year postgraduate program I took in 2018. You will learn the basics of marketing, creativity and privacy while delving into technology builds all in four months.
It seems like a lot, and it is – but the program is laid out so well that it doesn't overwhelm the learner. Overall, I would highly recommend the CM program to any marketers who feel they are ready to take their career to the next plateau. If you're ready go for it!
Shady Selim
Marketing Coordinator
Winter Instruments

Tags:
Blog